text.skipToContent
text.skipToNavigation
Infrared Temperature Sensors and Thermometers Calibration Services

ISO Certified Calibration Services for Infrared and Thermometer Temperature Sensors
We offer calibration services on thermocouples, RTDs, thermistors, infrared sensors, and more temperature devices. All calibrated equipment comes with a certificate of calibration with complete documentation matching industry standards and ISO certificates.
Infared Temperature Calibration
OMEGA offers a complete range of calibration services by a highly experienced engineering and technical staff. We maintain a wide range of high and low temperature blackbody calibration standards all NIST traceable. Contact our Customer Service Department to arrange for infrared calibration services.
*Not all products are available with NIST traceability
Note: Because of the large selection of infrared pyrometers and blackbody calibration services OMEGA offers, the pricing and calibration data points shown above are only an example and do not apply to every pyrometer or blackbody calibration. Contact OMEGA's Customer Service prior to returning any instrument for calibration service. Ordering Example: CAL-3-IR, designate this calibration level when NIST traceability is required on the infrared pyrometer you are purchasing new or returning previously purchased equipment for calibration.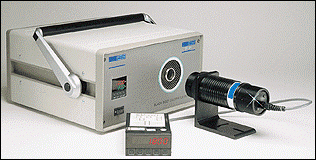 Model BB-4A benchtop blackbody calibration source shown below. Shown calibrating the OS1551-A infrared two-wire transmitter/ pyrometer and DP41-E panel meter system